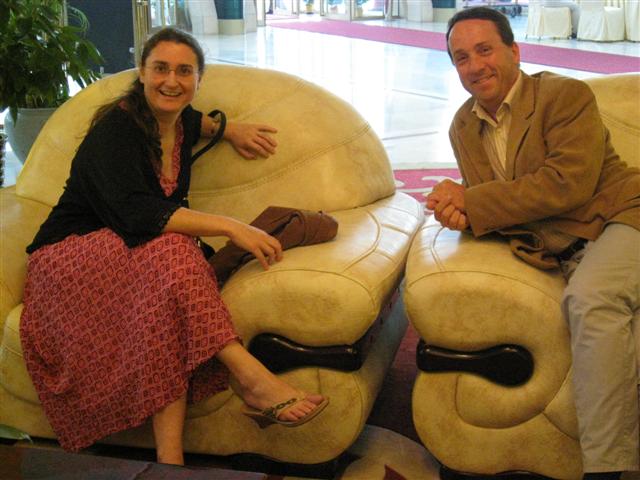 Susannah Scott and Alec Wodtke in the lobby of the Dalian Bayshore Hotel, during the 2007 Grand Challenges workshop.
Phase-II begins with Susannah Scott taking the reigns as Director of PIRE-ECCI after serving as co-director along side Alec Wodtke for Phase-I. Susannah's main base on campus is in the department of Chemical Engineering.
Xueming Yang remains in his position as foreign program coordinator, and main point of contact at the Dalian Institute of Chemical Physics. He and his team of expert administrators provide the local accommodations for our XRVs and week- long workshops in Dalian.
Coordinating the local events, travel, and administrative aspects of the program is Carrie Kuffel. She has been with the program since the winter quarter of 2006, and has been lucky enough to go to China with the program twice, making lots of new friends and work acquaintances along the way. Questions regarding the program can be directed to her.
The PIRE-ECCI program is run through the Chemistry and Biochemistry department at UC Santa Barbara. Special thanks to the administrative and financial services in this department, especially Financial Manager Kathy Allain, and Contracts and Grants Analyst Nancy Heaton.
Susannah Scott, Program Director
Department of Chemical Engineering/Chemistry and Biochemistry
3325 Engineering II Building
Phone: 805-893-5606

Xueming Yang, Foreign Program Coordinator
Dalian Institute of Chemical Physics
457 Zhongshan Rd. Dalian, Liaoning Province 116023, P.R. China
Phone: +861 389 840 3216
Carrie Kuffel, Local Program Coordinator
On-Campus Location: Physical Sciences North, 4623C (Off campus, please call or email)
Phone:805-893-5102/remote access: 805-453-2753